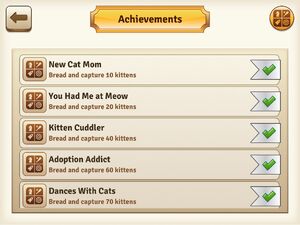 Achievements are goals that the player can complete to win prizes. The prizes vary from flour to Meowbux.
There are currently 74 achievements. Often the name of an achievement will be different from Bread Kittens to Bread Puppies. If this is the case, the Bread Kittens name will be on top and the Bread Puppies name will be on the bottom.
Name
Requirements
Group
Reward
New Cat Mom
New Adopter
Bread and capture 10 kittens/puppies
Catch
+2
You Had Me at Meow
Sucker for Dogs
Bread and capture 20 kittens/puppies
Catch
+2
Kitten Cuddler
Puppy Cuddler
Bread and capture 40 kittens/puppies
Catch
+2
Adoption Addict
Bread and capture 60 kittens/puppies
Catch
+2
Dances with Cats
Dances with Dogs
Bread and capture 70 kittens/puppies
Catch
+2
Meowbux amounts are usually not very generous in achievements.......
Ad blocker interference detected!
Wikia is a free-to-use site that makes money from advertising. We have a modified experience for viewers using ad blockers

Wikia is not accessible if you've made further modifications. Remove the custom ad blocker rule(s) and the page will load as expected.