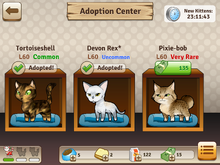 The Adoption Center is the only place where you can get the Mythicat, the Palas Cat, and the (Very Rare) Leopard. You can purchase kittens here for Meowbux. Common cats cost 15 Meowbux, Uncommon cats cost 25, Rare cats cost 55, Very Rare cats cost 135, and Unique cats cost 265.
In Bread Puppies, the Adoption Center is present, and is the only way you can get the Nine-tailed Fox, the Arctic Fox, and the Tundra Wolf. Common rarity dogs cost 120 Bowbux, Rare dogs cost 1200, Very Rare dogs cost 2000, and Unique dogs cost 4000.
A odd fact about the adoption center is that it has a specific set of cats per day. An example is that on June 15th, you see a Tiger in the adoption center you want but you can't afford it. But on June 20th, you now have the funds to get said Tiger. Go into settings, and change the date to June 15th.(The day you saw the cat you wanted) The Tiger'll be there, ready to take.