The Breezy Expanse is the first region in Woofshire. You start off with Peanut, your Chihuahua friend, who teaches you how to play the game, similar to Ginger in Bread Kittens. Your inventory starts with 5 Dog Chow, 5 Capture Bread, 20 Flour, and 200 BowBux. Its Bread Kittens region counterpart is Peris.
Upon completing Breezy Expanse, Wheat Bread and Steamed Bun breads are unlocked.
First Region!
Next stop:Tranquil Loch
Back to Regions!
Description
Edit
The Breezy Expanse is a large, flat region that is mostly filled with green grass. It also has a few houses and a well. Unlike the Bread Kittens regions, this region takes up two full screens.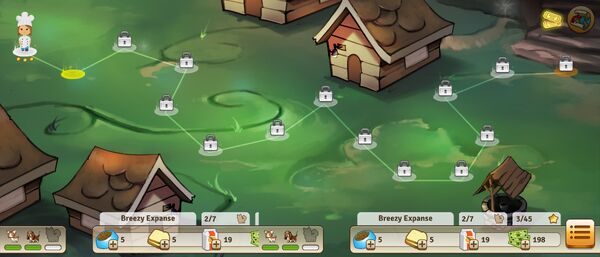 Common Puppies
Edit
Uncommon Puppies
Edit
Battle Spots
Edit
This Region has 15 spots where you can bread puppies and earn 1 - 3 stars.
Node
Level
Puppy
Health
1
2
Basset Hound
678
Daschund
627
2
2
Fox Terrier
627
3
2
Daschund
627
4
3
Fox Terrier
Basset Hound
616
5
3
Labrador Retriever
611
6
3
Daschund
576
7
4
Fox Terrier
659
Daschund
???
Laborador Retriever
711
Schnauzer
711
8
4
Basset Hound
763
9
4
Basset Hound
763
10
5
Basset Hound
891
11
5
Daschund
751
12
5
Daschund
751
13
6
Daschund
848
14
6
Basset Hound
1,028
15
6
Pomeranian
2,057