Information
Edit
.The Sphynx is a Rare cat found in Mer Delta. It has two elusive forms, one in Verdant Range and one in Eastport Harbor.

Description
Edit
The Sphynx is a hairless cat that comes in pink, gray, or a mix of the two. In Mer Delta, this cat is pink with gray patches and ice- blue eyes. Its two recolors in Verdant Range and Eastport Harbor are gray and pink, both with lime- green eyes.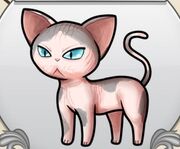 Mer Delta
Edit
Lvl 18-21
Attack 5, Health 9, Speed 12
Second, Fourth, and Sixth Battle Spots
Verdant Range (Elusive)
Edit

Lvl 25-27
Attack 6, Health 9, Speed 13
First, Third, Fifth, and Seventh, Battle Spots
Eastport Harbor (Elusive)
Edit
Lvl 33-37
Attack 5, Health 10, Speed 13
First, Forth, and Sixth Battle Spot
This cat resembles Rock from the Warriors series
Although the Sphynx is called a hairless cat, it actually has an invisible fuzz all over its body (like all hairless cats).
The Ukrainian Levkoy has identical colour variants to the Sphynx (Pink/w grey patches, Dark grey, Pink), the only difference being where they are found, and which colour is elusive.
Ad blocker interference detected!
Wikia is a free-to-use site that makes money from advertising. We have a modified experience for viewers using ad blockers

Wikia is not accessible if you've made further modifications. Remove the custom ad blocker rule(s) and the page will load as expected.