Tranquil Loch

Game:
Bread Puppies
Region Number:
2
Levels:
6 - 11
Highest Rarity:
Rare
Boss:
Bull Terrier
Breads Unlocked:
Rye, Plain Bagel
The Tranquil Loch is the second region in Woofshire.
Upon completing Tranquil Loch, Rye and Plain Bagel breads are unlocked. Its Bread Kittens region counterpart is Vino.
Came From: Breezy Expanse
Next stop: Aigou City
Back to Regions!
Description
Edit
The Tranquil Loch is a pleasant grassy area with a few pine trees. It also has a few small lakes (lochs).
Unlike the Bread Kittens regions, this region takes up two full screens.
Common Puppies
Uncommon Puppies
Rare Puppies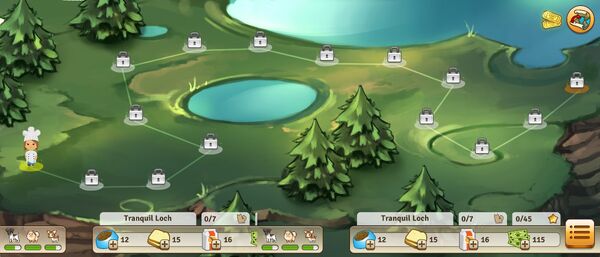 Battle Spots
Edit
This Region has 15 spots where you can bread puppies and earn 1 - 3 stars.
Node
Level
Puppy
Health
1
7
Miniature Schnauzer
822
Golden Retriever
???
American Cocker Spaniel
1196
2
7
American Water Spaniel
1071
3
7
American Cocker Spaniel
1196
Miniature Schnauzer
822
4
8
American Cocker Spaniel
1343
5
8
Chesapeake Bay Retriever
1195
American Cocker Spaniel
1343
6
8
Miniature Schnauzer
896
7
9
Chesapeake Bay Retriever
American Water Spaniel
1323
8
9
Golden Retriever
1498
American Water Spaniel
1323
9
9
Bearded Collie
1673
10
10
Chesapeake Bay Retriever
1457
American Water Spaniel
1457
11
10
Bearded Collie
1860
12
10
Golden Retriever
1658
American Water Spaniel
1457
13
11
Bearded Collie
14
11
American Water Spaniel
1595
15
11
Bull Terrier
3648
After defeating him, the Bull Terrier can actually attack you on the Boss spot, instead of you attacking him.
Ad blocker interference detected!
Wikia is a free-to-use site that makes money from advertising. We have a modified experience for viewers using ad blockers

Wikia is not accessible if you've made further modifications. Remove the custom ad blocker rule(s) and the page will load as expected.