The Turkish Van is a uncommon kitten found in Mer Delta. It has no elusive recolor version.
Description
Edit
The Turkish Van is a furry kitten that is mostly white with a orange tail and forehead. Its eyes are a light green.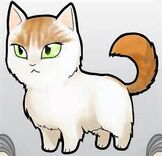 Mer Delta
Edit
Attack: 8 Stars
Health: 4 Stars
Speed: 5 Stars
Lucky Bread: 25 Meowbux
The Turkish Van can be found at battle spots 3 and 7.
Turkish Vans have water resistant fur
They are often mistaken for Turkish Angoras
Turkish Vans enjoy swimming and playing in water, unlike many other breeds of cats
Ad blocker interference detected!
Wikia is a free-to-use site that makes money from advertising. We have a modified experience for viewers using ad blockers

Wikia is not accessible if you've made further modifications. Remove the custom ad blocker rule(s) and the page will load as expected.